CGE5CP
ERITECH® Convenient Ground Electrode (CGE) Kits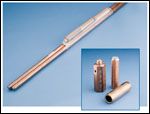 Installing eight-foot-long ground rods can be challenging if purpose-designed driving equipment is not available. Installers stand on ladders, truck beds or use other difficult methods to drive ground rods into the earth. Others cut eight-foot rods into four-foot lengths for installation safety. To alleviate these challenges, ERICO® offers the new ERITECH® Convenient Ground Electrode (CGE) Kit. The kit contains two four-foot, 5/8-in.-diameter, ERITECH copperbonded, steel-pointed and chamfered ground rods; a drive sleeve; an ERITECH compression coupling and an ERITECH® HAMMERLOCK or CP58 grounding connector. The UL®-Listed NEC®-Compliant kit allows for installation from the ground level and is much easier to transport than eight-foot ground rods.
Features
Kit contains two 4-ft (1.2 m) copperbonded ground rods, a coupling, a drive sleeve and a connector
Easier to install than 8-ft-long (2.4 m) ground rods; allows installation from ground level.
Easier to transport. It can be shipped via small parcel carrier.
Available with ERITECH HAMMERLOCK for #4 and #6 solid conductors or with CP58 for #8 solid to #2 stranded conductor
Contractors only need a length of copper conductor to complete the installation
Applications
The ERITECH CGE kits are designed for #6 and #4 solid copper conductor applications with ERITECH HAMMERLOCK and #8 solid to #2 stranded conductors with the CP58 connector. Additional wire size applications may be available upon request.
More Information
ERITECH copperbonded steel ground rods resist corrosion and provide for a service life of more than 40 years in most soils. They are manufactured using ERICO's unique copperbonding process which produces a reliable, long-lasting and extremely durable rod. ERITECH rods exceed the requirements of ANSI®/UL 467-2001, CSA® and ANSI/NEMA® GR-1.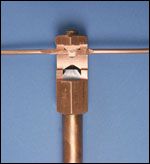 The ERITECH HAMMERLOCK taper-fit compression connector included in the kit joins the grounding conductor to the ground rod with the strike of a hammer. No torque wrench is required for proper installation. Machined from electrolytic copper, the connection is highly conductive and designed to withstand ground fault currents and lightning transients. The rugged, irreversible UL-Listed connector exceeds the mechanical strength requirements of IEEE® 837 and maintains the highest level of electrical performance for many years after being buried in the harsh underground environment.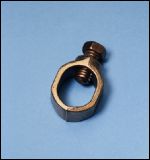 Kits are also available with a CP58 grounding connector. A coupling and drive sleeve complete the CGE kit. A length of conductor is the only thing needed to finish the installation.









Each Kit Includes:

| | | | | | | |
| --- | --- | --- | --- | --- | --- | --- |
| Article Number | Part Number | (2) ERITECH Ground Rods | ERITECH HAMMERLOCK or clamps | ERITECH Drive Sleeve | Wire Sizes | Metric Wire Sizes |
| 155992 | CGE3CP | 611340 | CP58 | EDS58 | #8 Sol - #2 Str | 10 mm2 Sol – 35 mm2 Str |
| 155991 | CGE51K | 615840 | EHL58C1K | EDS58 | #4 Sol | 16 mm2 Str |
| 155993 | CGE5CP | 615840 | CP58 | EDS58 | #8 Sol - #2 Str | 10 mm2 Sol – 35 mm2 Str |
| 155994 | CGE51G | 615840 | EHL58C1G | EDS58 | #6 Sol | 10 mm2 Str |